Civility Award Acknowledges Those Who
Take the High Road
The annual Consensus Civility Award breakfast is the feel-good event that kicks off the holiday season. Moderated by KCPT's Nick Haines, the event is held in November in the Green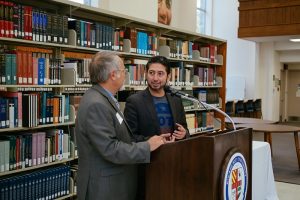 lease Library at Rockhurst University. The Civility Awards honor those who build bridges instead of tear them down, and the breakfast has become known for its ability to inspire and unite. Tickets are $30, or $210 for a table of eight, and can be purchased at https://2017civilityawards-consensus.eventbrite.com.
Sponsorships are available, as well, and funds go to support the mission of Consensus. For more information: 2017-sponsorship-info-FINAL (1)
The award criteria stress respect, integrity, engagement, inclusiveness, objectivity and common ground. Nominations don't take much time to complete and are due the first week of September.
To nominate someone for a Civility Award, use the downloadable 2017 Consensus Civility Award nom form (1) or complete the online version at https://goo.gl/forms/O3YVbQr0pHz3ammg1. While the nomination process is uncomplicated, just a brief essay, it can be helpful to see that convinced the Consensus board to select the nominee, available here: Examples of effective Civility Award nomination essays. In addition, if you would like coaching, we are happy to provide it.