Civility Award Acknowledges Those Who
Take the High Road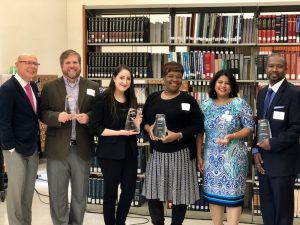 The annual Consensus Civility Award breakfast is the feel-good event that kicks off the holiday season. Moderated by KCPT's Nick Haines, the event is held in November.
The Civility Awards honor people, organizations, and businesses working across differences to solve problems. Every day, in every community, people are working to build bridges, engage in public policy, and tackle the big issues we face in society. Often, this work goes unnoticed. We created the Civility Awards to make sure it doesn't.
Consensus' 7th annual Civility Awards Breakfast will be held on November 8, 2019 at Grand Street Cafe. Tickets and sponsorships are available now, www.2019civilityawards.eventbrite.com.
All proceeds from the event go to continue the vital work of Consensus to engage the public in public policy. We welcome event sponsors and detail the levels available and advertising options in the sponsorship packet.
The award criteria stress respect, integrity, engagement, inclusiveness, objectivity and common ground.
To nominate someone for a Civility Award, complete the online nomination form. While the nomination process is uncomplicated, just a brief essay, it can be helpful to see essays that convinced the Consensus board to select the nominee. Check these out: Examples of effective Civility Award nomination essays. In addition, if you would like coaching, we are happy to provide it.