Deliberative action planning offers meaningful information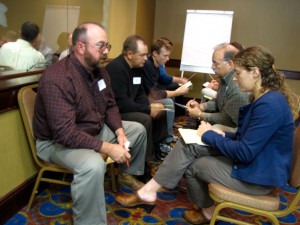 Deliberation asks people to consider different approaches to a problem, and the tradeoffs and consequences of each. It asks people to learn about the issue and consider perspectives other than their own. Deliberation helps move people past wishful thinking and denial and toward real solutions.
Consensus has produced deliberative events of dozens of people lasting a couple hours. We have also produced some of the biggest public engagements in local history, with hundreds of people for an entire day.
Consensus offers skilled facilitators and a deep understanding of this proven way to find common ground for action. For big projects, we engage national leaders in applying technology to large-scale engagement.
Examples: