The Altoona Public Library, situated in a rapidly growing community just outside of Des Moines, wanted to engage more of its community more deeply than is typical for strategic planning. It asked Consensus to help.
Kim Kietzman, library director, pulled together a core committee, composed of community and board members, to oversee the project. The Consensus team analyzed the results of the previous strategic plan and analyzed the library's input and output measured compared to libraries of a similar size. It produced a trends report that explained how the role of public libraries was changing, and how it was staying the same, and it conducted interviews with key stakeholders.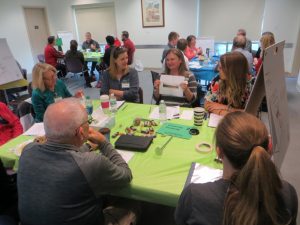 After that, the core committee selected three service areas that it felt were most vital for strategic planning. The committee identified an interesting mix of local residents – business leaders, young people, teachers, and more – who could help the library identify innovative steps for action related to the service areas. The library brought together some 40 residents for a Saturday morning session where they worked in small groups, led by local facilitators, to agree on goals and objectives.