The Consensus Civility Award highlights people who have worked across differences to solve problems. Consensus is a nonprofit organization that engages the public in difficult public pol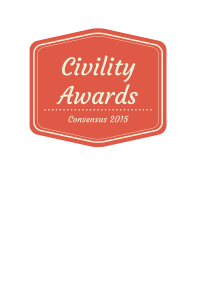 icy decisions. Our research shows that whether this happens in a civil manner depends on the people, the process, and how the problem is addressed. The awards breakfast will be held at 7:30 a.m., Tuesday, November 10, in the Greenlease Library at Rockhurst University. The deadline for nominations is September 10, 2015. Use this brief 2015 Consensus Civility Award nomination form.
Nominees can be individuals (youth, adult, lifetime achievement), organizations or projects and events. For more information or if you have questions, contact Julia Vargas, Civility Awards Committee chair, at Julia.Vargas@rockhurst.edu.
Our criteria include:
People

Exhibits respect for others and their viewpoints, even when they disagree.
Builds and maintains trust, and fosters a sense of shared responsibility.

Process

Motivates others to participate and engage in public life.
Creates an open, welcoming and participatory environment.

Problem

Works from a foundation of facts when making decisions.
Common ground. Works to remove the "us against them" barrier in addressing problems, and seeks common ground.
To see a list of previous Civility Award winners please visit http://www.consensuskc.org/civilityproject/